After a wonderful 2108 year, here comes 2019 with new projects and releases: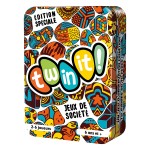 Twin it Board Games Edition
Thematic edition of the game Twin it : each design on the card is a reference to a famous game (Ticket to Ride, Catan …).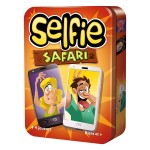 Selfie safari
Take selfies while imitating animals! Then one of the players has to associate each selfie with a card! A hilarious game where even the winner looks stupid!
Portrait-robot
Who smashed Masher? Who finished the roll of toilet paper? 2 and half minutes to find the guilty party!
Work together to recreate the guilty description. Will you manage to arrest 5 culprits in time?
Imagine Family
New version of Imagine: new colourful cards, new words (tested by children) …
[Work in progress. Release date: end of 2019]
Hanabi Deluxe
New version of Hanabi: 2 new expansions, new contents …
[Work in progress. Release date: end of 2019]
You are a professional? Of course you can meet us in the Nuremberg Toy Fair, like every year!
You can find all our games there and download some visuals.